This just deliver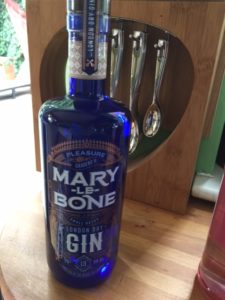 ed from those fine people at The Craft Gin Club, a handsome new gin for the collection. This one a London Dry Gin of unusual strength at 50.2% volume. And sadly just a day late for inclusion in Sunday's "cocktail of the day". What could have been more appropriate for the occassion of the Lord's test match than a gin called Mary-Le-Bone with Lord's being the home of the MCC?
This month's gin was accompanied as usual by a couple of high end snacks, this time some designer crisps and fudge. And the mixer was a very generous half litre bottle of Fentimans Pink Grapefruit tonic water. And an added bonus was the 5cl minature of Whitley Neill's Rhubarb and Ginger gin. Again, a really decent package for my monthly surprise giftbox! Add to that the latest edition of Ginned magazine, this one featuring the Marylebone area including reviews of a number of decent drinking establishments that makes me think that a litte soiree one evening with my London based pal Jon is in order. Which has just given me pause to reflect … the owners of the Craft Gin Club and authors of the magazine are a John and Jon as well! The synergy of this drinking malarky is remarkable isn't it?
Back to the Mary-Le-Bone gin. The additional strength of this new gin, and the botanicals used, is intended to reflect the days of the local pleasure gardens in 19th Century Marylebone. Rather gently described in the club magazine, Ginned, the reality is that the gardens were places of clandestine tristes and indulgence accompanied by strong alcohol. A chance for the gentry of the day to escape from the formalities of the era and get up to no good in dark corners of poorly lit parks!
So, perhaps one for a late night cocktail at my own pleasure garden some time soon?