Who'da thunk it!? The sun's out on an August Bank Holiday weekend and it looks like we've got a test match on our hands. Remarkable, when you consider the apparent demise of West Indies cricket in the first test.
So, cricket on the tele, sun in the sky, and booze in the bar equals a chance to create another cricket based cocktail for all readers and those nice people at the Guardian's over by over cricket coverage.
After 3 weeks recently in the Florida sun, drinking copious amounts of rum and margaritas in tiki bars, it seems approriate to trawl through the now 22 bottle of rum in the bar to create something appropriately tropical.
And what with the seeming resurrection of West Indies cricket why not a play on the most famous, and lethal, tiki cocktail of all – the Zombie?
So with the aid of a fine tiki cocktails book picked up in Key West last week here's my own version of Don Beachcomber's original Zombie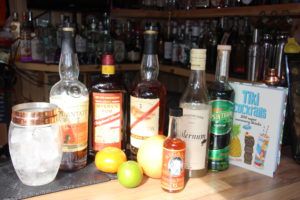 1.5 oz Myers Jamaican rum
1.5 oz Plantation Pineapple rum
3 tsp Falernum syrup
3 tsp Cinammon syrup
a shot of Absinthe
juice of a pink grapefruit
juice of a lime
dash of orange bitters
Shake with ice
use a half lime to top with overproof rum (here Plantation original dark from Trinidad and Tobago and set alight before extinguishing and tipping into glass.
You wont be able to see the flame I think in this shot but suffice to say shortly after the garnish stick was blazing and required an emergency dunking!
Don appparently limited the Zombie to 2 per customer due to its potency. I can only agree!
I present the Rum Resurrection