At last the first test match of the Summer is here as England host South Africa at Lords.
And I've largely missed the fun so far due to marathon road trip escorting child 1 to various university open days. But as I sweltered around various university campuses (or is it campi?) it seems that my brother waded into the Guardian's excellent online live text commentary with a number of references to the bar and a welcomed link to the site.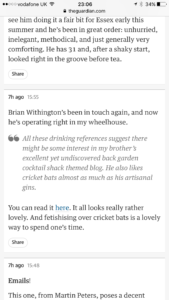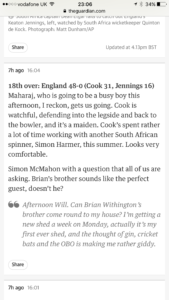 So, as the sun is just about doing its thing here in Royal Sutton Coldfield, as it is in St John's Wood, I thought it was appropriate to construct a "cocktail of the day", for friends old and new and in homage to the Guardian, its readers and the noble game as it plays out at Lords.
Something that honours the history of this old, but much interrupted, rivalry … so I give you, the Basil Dolly. A fruity, herbal simple return catch of a recipe for a warm Summer's afternoon.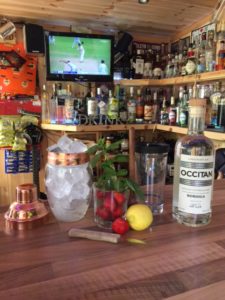 Ingredients:
A good London Dry Gin (this one an unusual Spanish one I admit!)
A handful of strawberries (picked from the garden ideally)
Half a dozen basil leaves (ditto)
Juice of half a lemon
A splash of simple syrup
A dash of bitters (in this case I used Cucumber bitters for some added vegetal notes but any will do!)
Soda to top
Method:
Like I said, it's simple. Muddle the strawberries and the basil in a shaker. Pile in the ice and the lemon juice, bitters and syrup.
Shake like a rabbit in the headlights.
Strain into a gin boulle or tall collins glass.
Top up with some soda, we're gentlemen after all!
Give it a stir like a wristy late cut and add a tiny flourish of a leg glance with a strawberry and some basil.
enjoy!