I like a good gin me. I've never really enjoyed the G&T thing but I love a well made Martini, preferably dirty, and any number of other gin cocktails. But I have to admit to being a little sceptical about the gin craze that seems to be sweeping the nation – with its gin parlours and uncountable number of new gin producers. But as I've said before … anything that makes people start to appreciate fine spirits a bit more is a good thing.
So inspite of myself and my aversion to someone else deciding what I should drink, I decided to t

ake a subscription to the Craft Gin Club. My cold rationale was that it would make a decent article for the blog. But I also get through plenty of gin in the bar and have my very good friend, JT, on hand who drinks little else and is keen to tick off a few new gins. And it had £10 off for the first month! (see discount code later)
For those who haven't been inundated with Facebook adverts or the like, the Craft Gin Club recently hit a new level of exposure due to its appearance on Dragon's Den in July. And despite upsetting the ever sulky Deborah Meaden and the quick to be offended Peter Jones, they secured funding and support from their preferred Dragon, Sarah Willingham, who conveniently happened to already be a club member.
So the gig is that you pay a monthly subscription of £40 – or you can elect to pay less often – and for every month that you pay you receive a gin box of a featured craft gin, a club magazine, and a few extra themed treats thrown in. So here's September's offering
And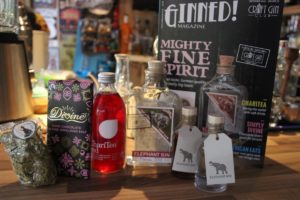 to be honest …. it's a very decent package. This month's gin is 50cl limited edition of the very well regarded German made Elephant Gin. Nicely presented and accompanied by two 10cl samples to make it up to the monthly promise of 70cl of gin. The samples include the signature Elephant Gin and their Sloe Gin offering. And the treats include a new fairtade chocolate bar, a tea based drink for mixing and some botanicals.
Now I get the fun factor of a monthly surprise, but for me the deal has to feel like good value. And this does. The 50cl bottle itself is £35 on Amazon Prime and about the same with postage elsewhere. The chance to try the other 2 plus the goodies makes this certainly decent 'vfm' to me. I'm getting more than my money's worth and am pleased with every part of the package this time. But something not to be overlooked is the magazine. To be honest I wasn't expecting much. But it's got really good articles about the gin and the goodies including cocktail and cooking recipes and a guide to botanicals.
And for many people there's something else that will really appeal. There's a really ethical theme that might only be a focus of this edition but is a refreshing surprise.
Elephant Gin makes subtantial contributions to elephant welfare – a well timed inclusion after this week's shocking report about the rapid decline in elephant numbers due to poaching – and the work features heavily across two articles. And there's similar feel-good content in the article about Fairtrade chocolate.
And credit is due to the Club for not going hard on printed advertising. Easily done I imagine but this edition only includes Club related publicity and an article on a London bar. I was prepared to be underwhelmed but knew that my £30 opening fee would get a reasonable return – and you can cancel at any time. But this cynic is rather impressed and I intend to keep the membership at least for a while … especially as the one spirit that's in low supply in the bar at the moment is gin!
And for anyone wating to give it a try there's a £10 discount code you can use GINPALS10. And if you don't mind then telling them it was me who recomended it then I'll get a £10 introducers discount too. Which I, of course, promise to plough back into the bar to enhance your next visit. And don't forget that you can cancel at any time!
Join here https://www.craftginclub.co.uk/