It started with a shed!
We've always enjoyed good food and drink and good company, like most people I suppose. And we like to cook outside and enjoy the garden. And as my drinks collection grew I realised it was wasted sitting in the cupboard. I wanted to be able to display it, and sit around with friends, chat and share a drink like you do on those precious few weeks of holiday time each year.
As luck would have it we have a shed building company next door …. so we started talking about building a bar in the garden. A few sketches later and we were underway.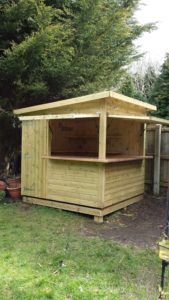 And now it's finished and despite our indifferent weather it's in use for 8 months of the year, thanks to some heaters, a canopy and plenty of blankets!
As a result I'm regularly restocking supplies and researching what's available. And it's developed into a real interest in spirits, and all things to do with mixed drinks.
So this blog is about my bar and my interest in bar stuff. I'll be talking about what's in stock, what's new and sharing my interest in the world of booze. And just like any good bar there'll be opinions, music, and chat. So please bookmark me, check in when you can and join in with anything that takes your interest.
John