A long time hobby of mine is pyrotechnics – fireworks to you! And around bonfire night I usually end up firing 3 or 4 smallish displays, including one for a local scout group. They can range from a few whizz bangs in the garden with friends to something that you'd recognise as a choreographed display.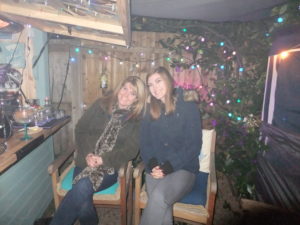 So, when you've got a bar in the garden it's a fairly obvious opportunity to get some friends together for a bit of an event. With the British climate I've had to make the bar fairly weather proof. So as well as the cover from the shutters when they're up, I've constructed a tarpaulin canopy that wraps around the bar and extends out on ropes to various points. Once that's up, the heaters under the shutters tend to kick in and make the whole bar area fairly cosy. And with a couple of firepits nearby there's always somewhere for guests to get some heat. So, extremes of weather aside, Halloween and bonfire night are easily manageable in the garden … and of course there's always something to warm the belly.
Bonfire night 2016 was conveniently a Saturday and we had a couple of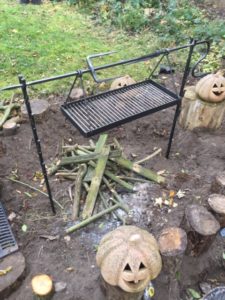 families of good friends visit from Cheshire.
And it was a perfect opportunity to use the new fire pit and spit roast that I'd installed just a few weeks before.
So a whole rib of beef on the bone was dry rubbed, smoked for a few hours and then roasted over a wood and charcoal fire. Needed a short finish in the oven but otherwise a great first outing.
A much more casual affair this one coming the weekend after the Halloween do with all the decorating and themed stuff. But as well as a fireworks show we did also try out the Lucky Voice Karaoke in the bar. Smoke machine (from Halloween) and all!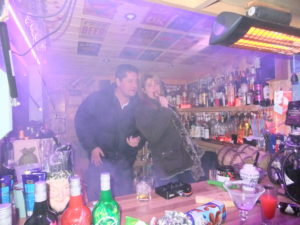 Tonight Matthew I'll be ….. getting a letter from the council's environment team after a complaint about the noise! Our first ever and with suitable apologies to any neighbours who may have found the blog.
Anyway, another great fun night and a very nice chat with the environment guy the following week who couldn't have been more helpful and supportive.
And here's a short video, some Rocky Horror followed by some clips of the fireworks display.