Better late than never they say, so here's a little update on an end of season home fixture from last year.
The first attempt at a Halloween bar party seemed to go well. A bit of dry ice and some "blood bag" cocktails helped but as usual it was friends and family that made the party. A few shots here of some scary folk who joined us and a couple of video clips of the fun. And hopefully a few useful suggestions for your next Halloween party.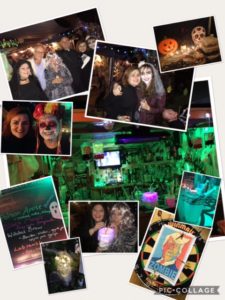 First of all a word about dry ice. I'd never used it before but found a really good door to door service at a sensible price.
Surprisingly affordable to get a party pack of dry ice (from around £25) and some great gadgets in their products range. The ice came in pellets so easy to use in small or large quantities. I opted to add some shot glasses and some of their chillisticks, all well priced and reusable. Care needs to be taken when handling and using the stuff but good safety instructions included and all went off fine without any additional horror stories!
The shot glasses simply have a reservoir in the bottom for one or two ice pellets. A funnel pops into the base allowing you to drop the pellets safely in before removing the funnel. The liquid sinks to the bottom, releasing the vapour while the dry ice stays safely in place.
For effects you simply use as much dry ice as you want and add water – hotter for more fog. You can also buy small dispenser units that allow you to put dry ice straight into a punch bowl or jug. That means that the ice stays inside the unit again, allowing you to pour or spoon the drink safely.
So here's a little video showing some dry ice effects. Simply some pellets in a small teapot with hot water, in a perforated container inside a spiced apple punch (with a submersible light added for effect) and finally in the shot glasses. The drink is a candy floss vodka shot with popping candy.
The blood bags – (filled in the video with cocktails I prepared earlier, including a blood orange flavoured "morgue-a-rita") – are available from Amazon.